The Libertarian Party of Georgia won a landmark court victory yesterday in defense of the rights of all Georgians to run for office.
Current state law – written by the two parties in power – allows only those two parties to field candidates for U.S. House races. The challenge from Georgia's largest third party will clear the way not just for their own candidates, but for independents and smaller parties currently blocked from running to represent Georgians. 
A federal judge ruled Monday that the 1943 state law requiring candidates to collect over 19,700 signatures, and have them validated by the partisan Secretary of State's office, unfairly burdens political participation. The Libertarian Party first filed the suit in 2017, alleging the partisan barriers violate the Equal Protection Clause of the Fourteenth Amendment. Yesterday, a Georgia federal court agreed.
The barriers kept out 27 third-party candidates since 1982, and no third party candidate has cleared the hurdles since they were created to keep Communists off Georgia ballots in 1943. Republicans and Democrats – the only two parties recognized by the state laws they wrote themselves – are exempt from the requirements.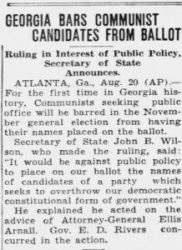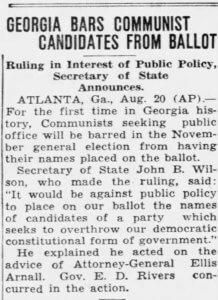 State Libertarians would have needed to collect 321,713 signatures (5% of registered voters) to run a candidate in each of Georgia's 14 House Districts. Those requirements did not change in 2020, during a pandemic which made going door-to-door with clipboards irresponsible. 
The lawsuit saw Martin Cowen, who has tried several times to run for U.S. House in Georgia's 13th district, sue Secretary of State Brad Raffensperger (and before him, Brian Kemp) to challenge the validity of his exclusion from the ballot, which unfairly denied Georgia voters a choice in how they are governed. Another would-be candidate – Aaron Gilmer of Georgia's 9th – joined Cowen, as did two voters (former libertarian candidates themselves) who wanted to vote for Libertarians in districts where none were permitted to appear on ballots. The case rose to the Eleventh Circuit, which ruled the Georgia court had not adequately addressed equal protection concerns and sent it back.
"Your right to run for office is as important to representation as your right to vote," said Libertarian Party Chair Ryan Graham. "Candidates should represent their communities and run on ideas, not choose from two outdated parties and their monied interests, who dictate their platforms. Republicans and Democrats got power and they shut the door behind them. We're the third party in line – and we're tearing down the walls for everyone. More choices on your ballot means more voice in how you're governed."
The now-challenged ballot barriers keep power in the hands of a few, and make Georgia's elections the most uncompetitive in the nation, with 15 unopposed races for U.S. House between 2012 and 2016. Third parties are excluded even when only one candidate appears on a ballot – allowing a single candidate for office and excluding all others isn't democracy – it's tyranny.
60% of Georgia State Assembly races are also unopposed thanks to gerrymandering and ballot access exclusion, but the rules for those local races are not impacted by Monday's federal ruling. LP Georgia still has plenty of fights ahead to tear down walls that of exclude and alienate voters from the laws that govern us.
The Libertarian Party of Georgia has also advanced legislation to change these discriminatory laws in the state legislature, and been blocked by partisan insiders.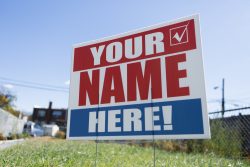 The Court didn't set any new standard for ballot access, but asked our vindicated LP plaintiffs "to submit within 21 days of the entry of this Order briefing proposing an appropriate remedy related to the First and Fourteenth Amendment claim and addressing their claim that Georgia's 5% requirement violates the Equal Protection Clause because it was adopted with a discriminatory purpose."
The Secretary of State may still appeal the ruling – again – to insulate powerful insiders from competition. 

####
The Libertarian Party of Georgia is committed to America's heritage of individual freedoms, limited government, and social tolerance. We value a free market economy of innovation and prosperity, a foreign policy of peace and non-intervention, and liberty and justice for all. If this sounds like you, learn more about what we do and what we stand for. You can find a libertarian affiliate in your community, join us at community service events and business meetings every month, or just sign up to let us know you're interested. A world of peace, prosperity, and personal freedom is possible. Be a part of making it happen.
lpgeorgia.com